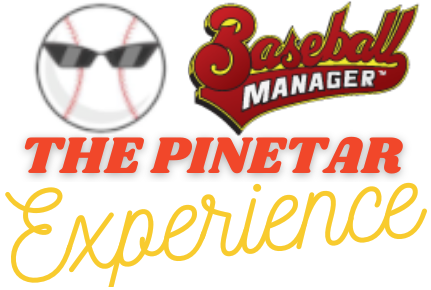 FAQ for The Pinetar Experience 2023
Background
Previously, The Pinetar Experience (TPE) was a staple with BBM managers from 2003 to 2018. It is a place for the beginner and the best fantasy baseball managers to play with the best. Very simply, Pinetar Progression leagues are BBM Ultimate leagues with the addtion of the progression model - win, and you move up (promotion). Lose, and you move down (relegatiion). This way 1) beginners play together in lower levels, and 2) the best of the best get to play together in higher levels to determine who really is the best fantasy baseball manager around!
2023 Information
2023 marks the reboot of Pinetar. We will start small and continue to build. Space is limited - so signup early. We will begin this year with only Level 1 leagues.
2023 Costs
Since Pintar leagues are Ultimate leagues, Pinetar teams cost $49.95. HOWEVER, if you signup for a Private Ultimate or Keeper Ultimate team, you can select the Pinetar option to add a team for $24.95 (that's OVER 50% off!). This will be verified ... please do not use the $24.95 option if you are not enrolled in another full price Ultimate league (refunds will not be given if this is violated).
2024 Promotion/Relegation Information
Typically, roughly two teams from each league will move up and two will move down for each future year. This will all depend on the number of leagues. The schedule will be for the regular season champion to move up as well as the playoff champion (Yes, that means the playoffs matter). If the same team wins both, then the 2nd place regular season team will be considered for promotion.
How many Pinetar Leagues can I play in?
One per league type (American League, National League, and Universe League). If do play want to sign up to play in multiple league types and want to use the discounted $24.95 option, make sure that you have multiple full price teams (one full price team, does not get you three discounted teams).
How will leagues be assigned?
Annual signup dates will be announced (for 2023: March 1 to March 15). Leagues will randomly be assigned shortly after (2023: March 16). Additional leagues may or may not be offered depending on interest.
Which BBM rules will all Pinetar Leagues use?
Draft Date: April 1, 2023, 5:00 AM
Draft Length: 8 Days (SP, OF, 1B, 2B, SS, 3B, C, RP)
Trade Review: No review
Stadium Factor: No
Free Agent Bids: Show team bids for first 7 days. Then we will change the setting to not show team bids
Lefty Starter Rule: 2 LHPs in 5 days
Injured List: No IL - players never go to IL
Are there TPE Keeper Leagues?
No. It just really doesn't make sense.
Are there cash winnings?
No (well, at least not in 2023). First and foremost, we don't want to be classified as a gambling site. If we can do this in the future withouth being considered gambling we *may*. We are looking at potential prizes though.
Is Humin'bird back?
Yes. We are excited to announce that the former ring leader of Pinetar will assisting with the progression leagues, its managers, and all career statistics in Pinetar 2023!